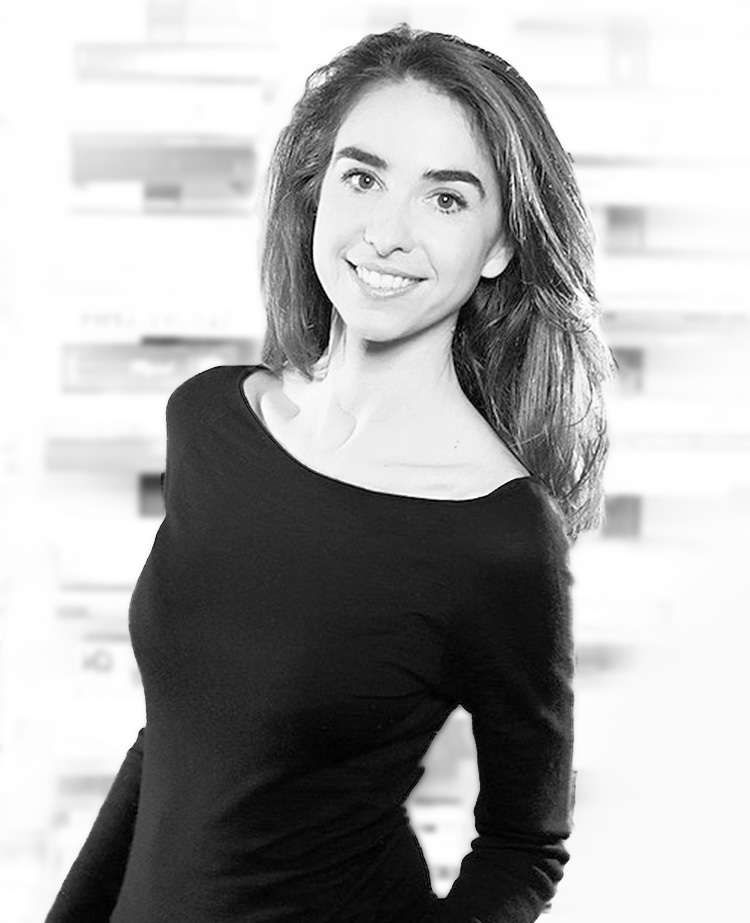 Marie-Laure
De Clermont-Tonnerre
Cofondatrice
Née à Monaco, Marie-Laure de Clermont-Tonnerre, poursuit ses études à Paris or he obtains a DEA de droit des Affaires et de l'Economie (Assas) et intègre Sciences PO Paris (diploma in 1995).
Directrice Littéraire pour la maison de production de films by Fabienne Servan-Schreiber (Cinétévé), elle initie et développe des projets de fiction pour la télévision et le cinéma. Elle rejoint ensuite la société de Simone Harari (Télé Images) for which she participates in the création d'une filiale de fiction (Télé Images Créations).
Déménageant à Genève pour des raisons familiales in 1999, he collaborates with the «Festival Cinéma Tout Ecran» pendant 2 ans: mise en place d'un marché du film et de different colloques de reflection on interferences between television and cinema, responsible de la Section 1er Films, responsible for jury. Journaliste, elle écrit en free lance pour différents magazines (Gala, Bilan, Genève Sur La Terre, Le Film Français…).
In 2008, it was established for 5 years as a member of the committee of the société des amis du Musée d'Art et d'Histoire de Genève. Dans ce cadre, the organization for the mechanisms of the Musée des visits de collections privées, en Suisse ou à l'étranger, et contribue au rayonnement et à la revalorisation de ses fonds culturels.
She participates in different charitable organizations in Suisse et en France. Member of the committee of honor of the Croix Rouge Suisse, the recherche des sponsors and des idees de partenariat pour lever des fonds. From 2004 to 2007, Madame Giscard d'Estaing, founder of the Fondation de l'Enfance, sued the junior committee of the Nuit de l'Enfance for president and development. Elle devient également membre du committee d'honneur comme soutien actif au development of the association "Cœur pour Tous" du professeur Kalangos à Genève.
In 2007, elle created avec son époux, the Fondation Marie-Laure et Jean-François de Clermont-Tonnerre dont le but principal est l'accès à l'éducation des enfants, adolescents et étudiants défavorisés. In Paris, the Fondation donne une bourse depuis 4 ans à an étudiant de l'école nationale des Beaux Arts de Paris dans le cadre du Prix Agnès B.
In 2011, elle rentre comme secrétaire de la Fondation Zao Wou-Ki based in Genève.
In March 2012, he published: "La médecine personnalisée, retrouver et garder la santé" (editions Odile Jacob) after a request for deux and auprès d'un médecin généraliste, le Dr. Jean Claude Lapraz et son équipe de médecins.
In April 2012, an autre ouvrage suit: «Se soigner toute l'année au Naturel» (editions Prat) which has handed over 50,000 exemplaires.
Three interest in design, the organization of design déjeuners with the magazine "Elle Déco" and the Pavilion of Arts and design for collections or galleries, in a meeting of grands acteurs de cette activité.
She is a member of the design circle of the Musée des Arts Décoratifs.
In February 2013, it is available for the Council of Administration of the Tokyo Art Club and the société des Amis du palais de Tokyo. The Fondation Cartier lui demade de faire partie du cercle «Vivre en couleurs».
From January 2013, he reprisals the activités d'écriture pour a nouveau livre commanded by the éditions Prat. Sortie prévue in September 2014.